About Us
Fresh Roast Pots is a Breakfast takeaway in Portsmouth. Why don't you try our Vegan Breakfast Pot or Vegetarian Roast Pot?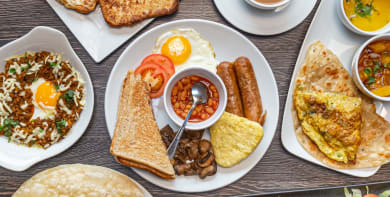 Reviews
531 reviews
Rachael
"Was lovely. Hot and good quality."
16/05/2021
Sue
"My food was delivered hot and on time ordered from hear several times"
16/05/2021
Sarah
"Great food!!"
16/05/2021
Katie
"Quick delivery and tasted absolutely AMAZING- will definitely order again 😀"
09/05/2021
Menu
Breakfast Pot Small 12oz
Breakfast sausage, poached egg, back bacon, Heinz beans, mushrooms, baby plum tomatoes
£6.00
Breakfast Pot Large 16oz
Breakfast sausage, poached egg, back bacon, Heinz beans, mushrooms, baby plum tomatoes
£6.80
Breakfast Pot X-Large 26oz
Breakfast sausage, poached egg, back bacon, Heinz beans, mushrooms, baby plum tomatoes
£8.60
Vegan Breakfast Pot Small 12oz
Red onion and rosemary sausage, beans, mushrooms, tomatoes and hash brown
£6.00
Vegan Breakfast Pot Large 16oz
Red onion and rosemary sausage, beans, mushrooms, tomatoes and hash brown
£6.80
Vegan Breakfast Pot X-Large 26oz
Red onion and rosemary sausage, beans, mushrooms, tomatoes and hash brown
£8.60
Vegetarian Breakfast Pot Small 12oz
Red onion and rosemary sausage, egg, beans, mushrooms, tomatoes and hash brown
£6.00
Vegetarian Breakfast Pot Large 16oz
Red onion and rosemary sausage, egg, beans, mushrooms, tomatoes and hash brown
£6.80
Vegetarian Breakfast Pot X-Large 26oz
Red onion and rosemary sausage, egg, beans, mushrooms, tomatoes and hash brown
£8.60
Chicken Roast Pot X-Large
£8.60
Chicken Roast Pot XX-Large
£9.80
Turkey Roast Pot XX-Large
£9.80
Gammon Roast Pot XX-Large
£9.80
Vegetarian Roast Pot Small
£6.00
Vegetarian Roast Pot Large
£6.80
Vegetarian Roast Pot X-Large
£8.60
Vegetarian Roast Pot XX-Large
£10.40
Vegetarian Nut Roast Pot Small
£6.00
Vegetarian Nut Roast Pot Large
£6.80
Vegetarian Nut Roast Pot X-Large
£8.60
Vegetarian Nut Roast Pot XX-Large
£9.80
Vegan Roast Pot Small
Red onion & rosemary soya chunks
£6.00
Vegan Roast Pot Large
Red onion & rosemary soya chunks
£6.80
Vegan Roast Pot X-Large
Red onion & rosemary soya chunks
£8.60
Vegan Roast Pot XX-Large
Red onion & rosemary soya chunks
£9.80
Premium Breakfast Baguette
Sausage, egg, bacon, beans, tomatoes & mushrooms
£6.90
Premium Carvery Baguette
Filled with meats of your choice & topped with gravy
£6.90
Chocolate Brownies
With ice cream
£5.20
Salted Caramel Brownies
With ice cream
£5.70
Ben & Jerry's Ice Cream Chocolate Fudge Brownie
£6.30
Ben & Jerry's Ice Cream Cookie Dough
£6.30
Ben & Jerry's Ice Cream Phish Food
£6.30
Contact Us
Find Us
41/43 Kingston road, Portsmouth, PO27DP
We deliver to
PO1, PO2, PO3, PO4, PO5, PO6